Papal Visit Spurs Georgetown Events, Scholarly Commentary
Georgetown marks the first visit of Pope Francis to the United States with activities and events while scholars share their expertise on the pontiff, his visit and the future of the papacy.
Republican National Committee chair Michael Steele and NPR contributor Cokie Roberts participate in a panel discussion, sponsored by Georgetown's Initiative on Catholic Social Thought and Public Life, reflecting on Pope Francis' Sept. 22-27 trip to America. Read more.
Pope Francis' first Mass in the United States on Sept. 23 includes an iron cross provided by Georgetown that historians believe came over from England with the first settlers in 1634. Read more.
Students Participate in Events Celebrating the Pope's Visit
Whether singing in a concert honoring the papal visit or awaiting his arrival and attending his historic Mass, Georgetown students celebrate the pontiff's presence in the United States.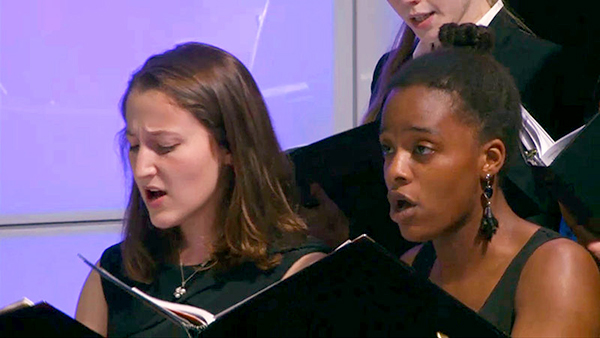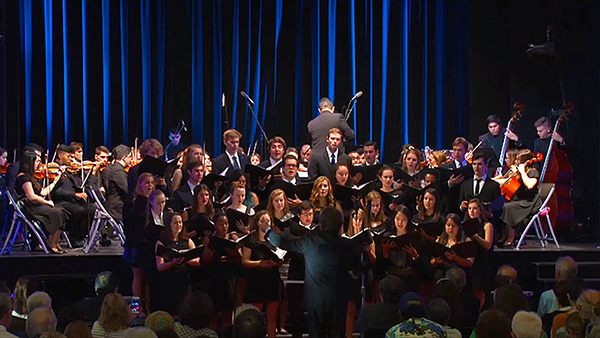 Georgetown participates in the Archdiocese of Washington's campaign to welcome Pope Francis to Washington, D.C. by committing to follow his example of prayer and service. #WalkWithFrancis
With the election of the first Jesuit pope, Georgetown, the oldest American Catholic and Jesuit university, hopes to help the public become more informed about the Jesuits and their mission. Read more.
Georgetown's new Initiative on Catholic Social Thought and Public Life kicked off Tuesday night with remarks by Cardinal Donald Wuerl, Archbishop of Washington, and a panel discussion on Pope Francis that included PBS NewsHour political analysts Mark Shields and David Brooks. Read more.

Schedule of Activities and Events
Sept. 1, 2-4 p.m.
Center for Justice, Research, Teaching and Service (CSJ) Open House: CSJ will ask students to make a pledge to #WalkWithFrancis during its Open House. Click here to sign the pledge.
Sept. 5, 10 a.m.-4 p.m.
Community Service Day: Celebrate Pope Francis' upcoming visit to the United States by pledging your Community Service Day commitment to the #WalkWithFrancis campaign. Click here to sign the pledge.
Sept. 9, 7-8:30 p.m., Gaston Hall
Economy and Pope Francis Visit: Georgetown will present a discussion on economic pressures and family life before the pope's visit and his involvement with the synod on the family during the World Meeting of Families in Philadelphia on Sept. 27. Georgetown's Initiative on Catholic Social Thought and Public Life and the Catholic news website Crux, owned by The Boston Globe will co-sponsor the event.
Sept. 17, 10 a.m., 1777 F St. N.W.
The Pope and the Bomb: Pope Francis has been pressing the moral case for a world free of nuclear weapons. Georgetown public policy professor and Washington Post columnist E.J. Dionne will moderate a panel – co-sponsored by Georgetown's Berkely Center for Religion, Peace and Word Affairs – that will consider the moral and policy implications of new initiatives by the Holy See on nuclear proliferation and disarmament.
Sept. 21, 7 p.m., McShain Lounge
Pope Francis' Environmental Challenge: A panel featuring Georgetown experts will discuss the connection of faith and sustainability. An interactive dialogue will follow and allow students to examine how they are bringing to life the pope's encyclical principles.
Sept. 22, 5 p.m., Healy Gates
Immigrant Rights Pilgrimage: Hoyas for Immigrant Rights will join 100 women, walking 100 miles from a detention center in Pennsylvania to Washington, D.C., on part of their journey to the White House, echoing the pope's message of dignity for migrants. Walk participants will meet at the Healy Gates to begin the pilgrimage from Georgetown to the Ellipse, just south of the White House. A brief rally will follow. Email mal314@georgetown.edu for location information at the White House. RSVP to participate.
Sept. 23, 6 p.m., Kennedy Center for Performing Arts
Millennium Stage Concert: The Georgetown University Chapel Choir and the Chamber Singers will perform with the internationally renowned National Youth Orchestra of Uruguay in celebration of the pope's U.S. visit. Concert is free and open to the public.
Sept. 23, 8 p.m., Kennedy Center for Performing Arts
A Concert to Celebrate Pope Francis: The Kennedy Center for Performing Arts and the Archdiocese of Washington will present a concert at 8 p.m. in recognition of the first visit to Washington by Pope Francis that will feature Metropolitan Opera luminary Denyce Graves and others. Concert is free and open to the public. Learn more.
Sept. 24, 10 a.m., Healey Family Student Center
Viewing of the Papal Address to U.S. Senate and House of Representatives: Georgetown will join the nation's other Jesuit colleges and universities as they convene discussions following the pope's congressional address. Member institutions of the Ignatian Solidarity Network will host "watch parties" around the country and engage in discussion. #Pope2Congress
Sept. 25, 11 a.m.-noon, McShain Lounge
Politics of the Papal Visit: Georgetown's Institute for Politics and Public Service presents a discussion between Sen. Tim Kaine (D-Virginia) and Puerto Rico's former Republican Gov. Luis Fortuño as they break down Pope Francis' speech to Congress, its impact on the legislative agenda and on the 2016 elections. The event will be moderated by John Carr, director of Georgetown's Initiative on Catholic Social Thought and Public Life
Sept. 27, 4 p.m., Gaston Hall
Viewing of the Papal Mass for World Meeting of Families in Philadelphia: Members of the Georgetown community will gather in Gaston Hall to watch Pope Francis' Mass during the World Meeting of Families in Philadelphia.
Sept. 28, 6 p.m., Gaston Hall
Francis Factor Revisited: A day after the end of the pope's historic U.S. tour, Georgetown's Initiative on Catholic Social Thought and Public Life will present a panel assessing the papal visit, analyzing Pope Francis' message and discussing its impact on the nation, politics, culture and the Catholic Church. Panelists include Alexia Kelley, president and CEO of Foundations and Donors Interested in Catholic Activities; Cokie Roberts, NPR contributor and ABC News political commentator; Michael Steele, former chairman of the Republican National Committee; and others. Catholic Social Thought director John Carr will moderate.
Faculty Talk About the Election of Pope Francis
Georgetown faculty experts share their thoughts about 2013 election of Pope Francis.